Ok, so I finally have time to write about
Black Sheep
. It was really exciting.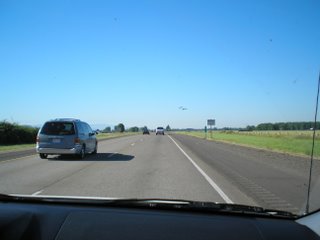 The drive down is about 3 hours, depending on traffic. So, here we are going down the long and very straight I-5.
Here is blogless Erika (She is going to get a blog soon). She drove me down and we enjoyed many hours of travel together. She is a major shop-a-holic and Black Sheep was a total temptation. I just taught her to spin, so she bought fiber, I taught her to knit, so she bought yarn, and she already embroiders, so she bought embroidery yarn too. She learned how to knit so that she could make complex lace shawls. I think she found plenty of lace weight yarn just for that purpose too. She really wants to take pictures of her work and place them up online, so I am sure she is just on the verge of getting a blog.
This is just for color. Color was everywhere and it left a lot for inspiration. More than likely this is
Dicentra Designs
, which I love for her bright color that doesn't bleed when it is rinsed out.
This is
McKenzie Alpacas
. When I was still at the
University of Oregon
our knitting group would go and visit their farm. She is always very nice to visit and has some of the nicest alpacas. They are soooo friendly they just about eat out of your hand.
At Lunch we took a break and hit one of my favorite places to eat in Eugene,
Newman's Fish and Chips
. One of the joys of going to school in Eugene is that you get to know the best places to eat for little money. My husband and I decided that they have the best fish and chips and that
Fisherman's Market
(the other fish & chips place) has the best sauces. Now if they would just merge my fish and chips needs would be fulfilled =)
After lunch I met up with the bloggers. I somehow managed not to take any pictures of them (where is my brain?). I met
Jen
,
Dene
,
Tammy
, and (of course)
Chrissy
! Thank goodness for Chrissy putting up all the links to their sites. I am terrible with names and I guess blog names are even worse for me to remember, though I had visited a couple of them before. I really did want to knit with them but I was so distracted. I still had one half of the last room to walk through and all the animals to see. It was too much of a lure, so off I went shopping! I also saw
Asher
and
Emily
out shopping too.
Look at the pretty, freshly sheared alpacas. These guys are such cuties! There was an alpaca show at the same time that always happens at the same time as Black Sheep. There was one year, like 3 years ago, that it didn't and made many of us sad.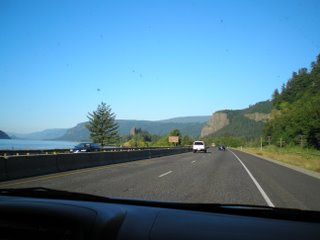 Here we are back on the road home. This is I-84. I just love the gorge, it is so pretty. The weather was really nice and I was exhausted by the time we got home. I'm going to post soon about all the stuff I bought. I just need to get pics of it. Most of it is white, but I will give a nice shout out to all of the great vendors that I bought from.